August 2, 2023     •     Article
Guaranteed Transparency in Mortgage Fees via Innovative Compensation and Cost Model
Realfinity announces its Independent Brokerage Model (IBM)
A recent report by Stratmor Group underscored the lack of transparency in mortgage-related fees for end-consumers. Per the report, mortgage fees continue to rise, influenced by:
Increased costs for labor, regulatory compliance, and technology investments
Growth in average loan size due to real estate appreciation
Fluctuations in supply and demand for loans
Realfinity's IBM (Independent Broker Model) challenges the notion that these factors should impact mortgage fees. Efficient operations, technology-driven productivity, sales compensations not rewarding higher loan amounts, and scalable operations can neutralize these influences.
Independent mortgage brokerages under Realfinity's IBM have the potential to disrupt traditional approaches to mortgage fees driven by compensation and cost. The IBM modularizes compensation and cost dynamics, building a scalable lending platform for independent mortgage brokerages that are typically an ancillary business to real estate brokerages, homebuilders, and wealth managers with a captive market.
"Based on data from the PGR: MBA and STRATMOR Peer Group Roundtables program, the average fully loaded cost to originate a loan through the Retail channel for all peer groups was $13,131 in 2022." ¹
This total cost is then split out by the following percentage allocations: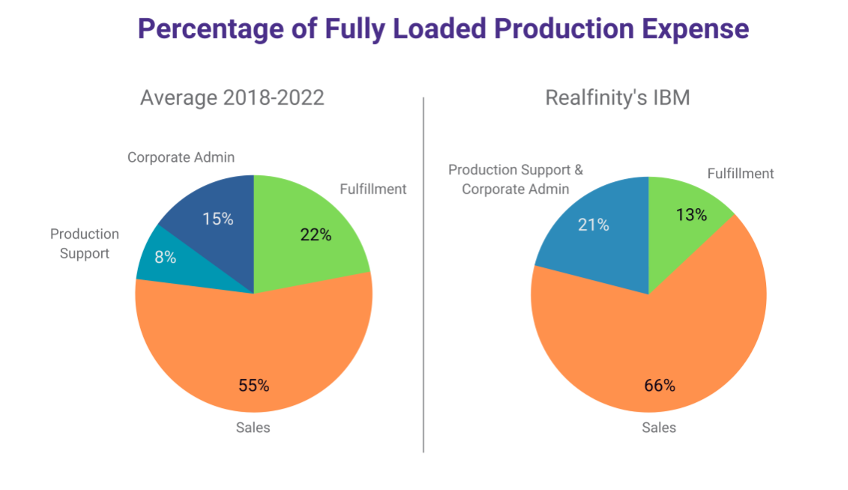 Realfinity's IBM decentralizes "Corporate Admin" and "Production Support" allocations, standardizing the cost at $1,595 per loan for all mortgage brokerages on its platform. Furthermore, under Realfinity's model, independent mortgage brokerages leverage economies of scale and fulfillment services from wholesale lender partners, typically charging a $1,000 – $1,200 underwriting fee per loan. Realfinity recommends independent mortgage brokerages under its IBM to set sales-related fees with a maximum fee of $5,000 per loan, with adjustments for loans below $333,333. This guarantees end-consumers a per-loan cost of $7,595, a remarkable 40% reduction from the industry average.
Luca Dahlhausen, CEO at Realfinity, concludes, "The purpose of our industry is to help families obtain and finance residential real estate assets. I strongly believe in the concept of mortgages as an ancillary service to existing core businesses – this approach ensures that end-consumers consistently receive the most competitive pricing and rates."
¹ Sales Compensation: Do You Get What You Pay For?' by Garth Graham, Stratmor Group, July 2023. Available at Stratmor.
About Realfinity
Realfinity is a leading proptech startup tackling inequalities in the housing market by simplifying and bringing transparency to the complex mortgage world and providing financial education to homeowners and homebuyers. By prioritizing customer data and ensuring its protection, Realfinity sets the industry's benchmark for security and reliability.
Realfinity democratizes access to data and finance products in residential real estate. We believe that everyone deserves equal access to the resources needed to make the best financial decisions for their future.
We are a technology company building a private label platform that deeply integrates with our B2B clients' tech suite to offer investment-grade property data analytics and finance options at their homeowners and buyers' fingertips.
For more information about Realfinity and its services, please visit realfinity.io